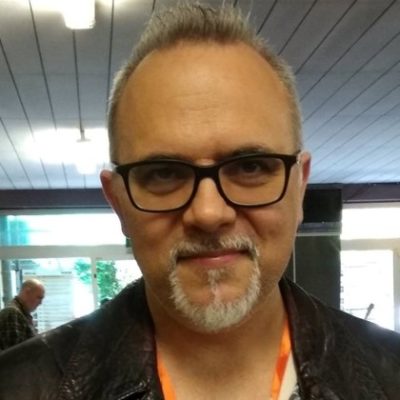 Francesco VERSO
Auteur
Francesco Verso (Bologne, 1973) est l'une des voix les plus importantes de la science-fiction italienne et l'éditeur de Future Fiction. Au cours des 12 dernières années, il a remporté de nombreux prix SF, dont 2 prix Urania, 3 prix Europa, 1 prix Italie et 1 prix Golden Dragon pour la promotion de la science-fiction internationale. Ses livres incluent Antidoti umani, e-Doll, Nexhuman, Bloodbusters, I camminatori (fait de The Pulldogs et No/Mad/Land) et Futurespotting. Ses romans Nexhuman et Bloodbusters – traduits en anglais par Sally McCorry – ont été publiés aux États-Unis, au Royaume-Uni et en Chine avec la traduction de Zhang Fan et Shaoyan Hu pour Bofeng. Ses nouvelles ont paru dans des magazines comme Robot, MAMUT, International Speculative Fiction #5, Chicago Quarterly Review #20, Words Without Borders, Future Affairs Administration et des anthologies internationales telles que Sunspot Jungle (Rosarium Publishing), A Dying Earth (Flame Tree Press ) et The Best of World SF (Head of Zeus), Llaqtamasi (Pandemonium) et What's the Future Like? (Guangzhou Blue Ocean Press).
Avec Bill Campbell, il a co-édité Future Fiction: New Dimensions in International Science Fiction (Rosarium Publishing, 2018). Il a également édité une anthologie de SF intitulée What's the Future Like? pour Guangzhou Blue Ocean Press qui a été distribué aux lycées et universités chinois en 2019. Il est conférencier dans de nombreux SF Cons à travers le monde, y compris WorldCons, EuroCons et Chinese SF Conventions. En 2020 et 2021, il a co-organisé la FutureCon, une convention SF en ligne avec 67 intervenants venant de plus de 25 pays et en 2022, il a co-organisé la SolariseCon, l'une des premières conventions internationales sur le Solarpunk.
Depuis 2014, il travaille comme éditeur de Future Fiction, un projet multiculturel, recherchant et publiant les meilleurs SF en traduction de 13 langues et de plus de 35 pays avec des auteurs comme James P. Kelly, Ian McDonald, Ken Liu, Xia Jia, Liu Cixin, Chen Qiufan, Pat Cadigan, Olivier Paquet, Vandana Singh, Lavie Tidhar, Fabio Fernandes, Ekaterina Sedia et bien d'autres. Dernièrement, Future Fiction a lancé une marque appelée Futuresque, dédiée aux bandes dessinées de science-fiction de nombreux pays. Il vit à Rome avec sa femme et sa fille. Il peut être trouvé en ligne sur www.futurefiction.org.